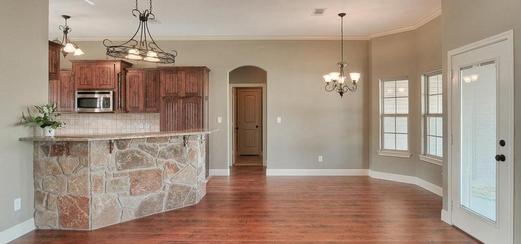 If you're looking for high quality and personal service, you've come to the right place. At Tommy Miles Homes we'll give you the attention and personal service you'll come to expect and enjoy.

Over 45 great home sites available ranging from 1 acre to over 20 acres just minutes west of DFW in beautiful Parker County including the exceptional Brock School District.

Today's savy consumers want someone more than just here-today gone-tomorrow assistance when purchasing or building their dream home. They want someone who will be here through every step of the process and will have their best interests in mind. Tommy Miles has the experience, the integrity, and the reputation for honesty that you are looking for. Call Today. It costs nothing to talk.

Home builder, custom homes, parker county land for sale, Parker County, acreage, lots, building sites, home, house, real estate, virtual tour, Tommy miles, Tommy, Springtown, Weatherford, Azle, Aledo, Brock, Brock School System, Brock ISD, Brock Schools, farm, farms, ranches, ranch, North Texas, Tommy Miles Homes, parker county homes for sale, parker county property, real estate parker county, parker county homes, parker county homes for sale, new home builders, brock real estate, springtown texas, springtown land for sale, springtown real estate, springtown homes for sale.

About Tommy Miles

Tommy Miles is a lifetime resident of Parker County Texas and has spent the past 25 years developing an impeccable reputation for delivering a superior service with honesty and integrity. In addition to being a licensed Realtor®, he is an established real estate developer and home builder that can provide you with a unique insight based on his many years of experience.

Whether you are interested in buying, selling, building, developing, or just "feeling out" the market, you can benefit from talking to Tommy. Give him a call today to discover the difference that experience makes. (817) 798-0891

    - 25 years of real estate buying and selling experience

    - Specialist in Farms and Ranches

    - 14 years as a quality home builder

    - Unique marketing strategies tailored to fit your needs

    - Ability to target home and land searches

    - Strong negotiation skills

    - Support through the closing and beyond